Maria Dolores Ferreira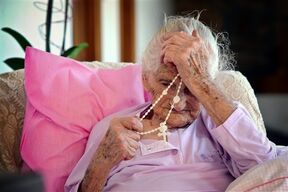 Validated
Maria Dolores Ferreira (22 July 1902 — 31 July 2013) was a Portuguese supercentenarian.
Biography
She was born on 22 July 1902, in Parish of Sequeade, Municipality of Barcelos, Portugal. She was the daughter of Jose Ferreira da Rocha and Luasa da Silva Gomes. She married Josua Aires Lopes on 27 April 1923. Her husband died in 1948. She lives in Parish of Encourados, Municipality of Barcelos, Portugal.
Maria Dolores Ferreira died on 31 July 2013 at the age of 111 years, 9 days.
References
Ad blocker interference detected!
Wikia is a free-to-use site that makes money from advertising. We have a modified experience for viewers using ad blockers

Wikia is not accessible if you've made further modifications. Remove the custom ad blocker rule(s) and the page will load as expected.