Maria Josefa Vietoris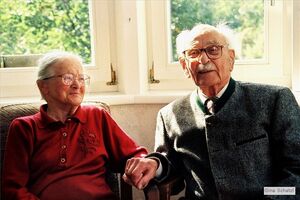 Maria Josefa with her husband, Leopold, in their later years.
Centenarian
Maria Josefa Vincentia Vietoris (neé Riccabona zu Reichenfels; 18 July 1901 – 24 March 2002) was an Austrian centenarian and wife of mathematician and supercentenarian Leopold Vietoris (1891–2002).[1]
In 1936 she married Leopold Vietoris. The couple had no children. Her sister, Klara Riccabona, first wife of Leopold Vietoris, died while giving birth to their sixth daughter (citation needed).
With her husband dying at age 110, they became one of the eldest couples of the world, having the seventh-highest aggregate age of a married couple (total combined age). Their combined age at the end of their marriage, 211 years, 177 days, is the second highest on record. Vietoris died two weeks after her death.
References
Ad blocker interference detected!
Wikia is a free-to-use site that makes money from advertising. We have a modified experience for viewers using ad blockers

Wikia is not accessible if you've made further modifications. Remove the custom ad blocker rule(s) and the page will load as expected.