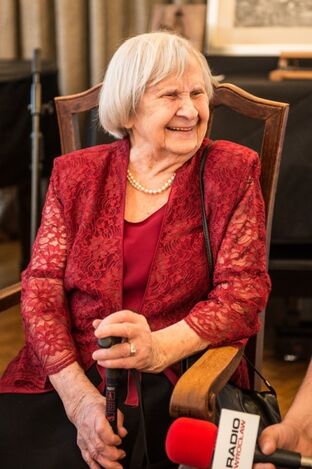 Maria Olszowska (15 September 1907 – 29 August 2017) was a Polish centenarian and the third-oldest living person in Poland behind Tekla Juniewicz and Czeslawa Lasiewicz .
Biography
Maria Olszowska was born in the town of Kuty, Austria-Hungary, on 15 September 1907. There she married and had a daughter. Following World War II, she settled in Lower Silesia, firstly in Oborniki Śląskie and later in Wrocław. She became known in 2010 when, at the age of 103, she successfully underwent by-pass implantation as the oldest patient in Europe. The operation was conducted by Prof. Marian Zembala in the cardiology clinic in Zabrze.
Maria Olszowska passed away on 29 August 2017 two weeks shy of her 110th birthday. She is the longevity recordholder of Lower Silesia Voivodeship. Moreover, Mrs. Olszowska is the oldest person to have ever been born in former Stanisławów Voivodeship.[1][2]
References