Maria Savva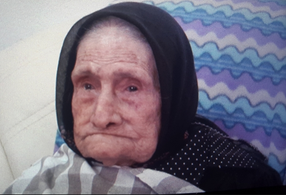 Maria Savva at her 105th birthday.
Centenarian
Maria Savva (born 18 January 1911) is a Cypriot centenarian who is currently the oldest living woman in Cyprus.[1]
Biography
Maria Savva was born on 18 January 1911. She started working at the fields and vineyards of the area, first to help raise her brothers and sisters, and later, her four children. Savva was married to the folk poet Nicolas Theodorou. She has 11 grandchildren and 24 great-grandchildren.
References
Ad blocker interference detected!
Wikia is a free-to-use site that makes money from advertising. We have a modified experience for viewers using ad blockers

Wikia is not accessible if you've made further modifications. Remove the custom ad blocker rule(s) and the page will load as expected.