Maria Van Sprengel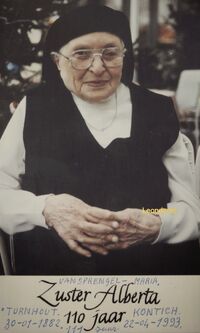 Validated
Maria Ludovica Van Sprengel (also known as Sister Alberta) (30 January 1882 - 22 April 1993) was a Belgian supercentenarian whose age is officialy validated. Maria Van Sprengel was born in the province of Antwerp, Belgium on 30 January 1882. At the time of her death, she was the oldest person ever from Belgium and the first Belgian person to reach the age of 110. Her record was eventually broken by Joanna Deroover in August 2001.
References
Ad blocker interference detected!
Wikia is a free-to-use site that makes money from advertising. We have a modified experience for viewers using ad blockers

Wikia is not accessible if you've made further modifications. Remove the custom ad blocker rule(s) and the page will load as expected.