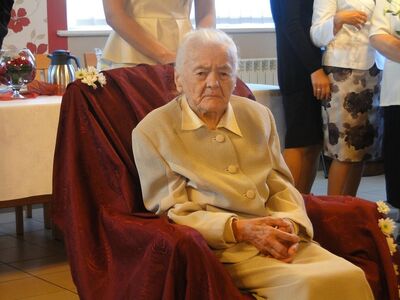 Marianna Mroz
(Polish:
Marianna Mróz
) (18 September 1903 - 14 May 2013) - was a Polish centenarian and the oldest recognized living person in Poland since the passing of Józefa Stanisława Szyda of Lodz on 1 May 2013 until her own death on 14 May 2013.
109-year old Marianna Mroz was a resident in a care home in Marszalki, Greater Poland Voivodeship. She never married. She was raised by countess Helena von Bismarck-Bohlen, who was the wife of first German cancellor Otto von Bismarck. Marianna Mroz was born in 1903. As 5 year old girl she went to the orphanag
e, which was founded in Marszałki by the countess. In 1918, after the independence of Poland was restored, Helena von Bismarck-Bohlen emigrated to Berlin and took 15 year old Marianna with her.  However, as an adult person Marianna Mroz returned to her home village of Marszalki. In 1990, she became resident of the same Marszalki care home. In 2010, when questioned what was her longevity secret, Ms. Mroz mentioned not eating too much and including fruits and vegetables in diet with little amount of meat. In 2013, shortly prior to her death, she became the oldest living person in Poland.
Ms. Marianna Mroz has always been very interested in politics. In 2010, at age 106, she voted in presidential election. In 2011, at age 108, she voted again - this time in parlamentiary election. During both, she was the older voter in the country. She would later say, "I voted for Poland."
Marianna Mroz has set the longevity record of Greater Poland Voivodeship, which has lasted for 2 years. That record has been beaten in 2015 by Jadwiga Mlynek.
References