Matsuyo Kageyama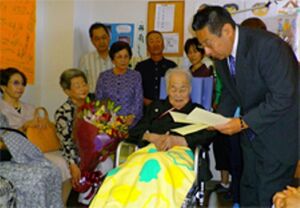 Matsuyo Kageyama in October 2013.
Validated
Matsuyo Kageyama (born 10 October 1901) is a verified Japanese supercentenarian who is currently the world's 5th-oldest living person and the 3rd-oldest in Japan if alive. She is the oldest woman to ever live in the Kyoto prefecture and overall the 2nd oldest in Kyoto ever after Jiroemon Kimura. She is among the 100 oldest verified people ever.
Ad blocker interference detected!
Wikia is a free-to-use site that makes money from advertising. We have a modified experience for viewers using ad blockers

Wikia is not accessible if you've made further modifications. Remove the custom ad blocker rule(s) and the page will load as expected.