Merle Barwis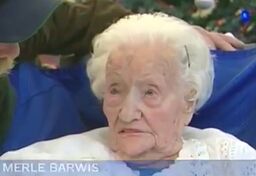 On her 111th birthday in 2011.
Validated
Merle Emmeline Barwis (née Stedwell) (23 December 1900 – 22 November 2014) was a Canadian supercentenarian, although she was born in the United States. She was 113 years, 334 days old when she died. She resided in British Columbia, Canada and died in the city of Victoria. She is the oldest person ever in British Columbian history. She was the 14th-oldest living person until her death in November 2014.
References
Ad blocker interference detected!
Wikia is a free-to-use site that makes money from advertising. We have a modified experience for viewers using ad blockers

Wikia is not accessible if you've made further modifications. Remove the custom ad blocker rule(s) and the page will load as expected.