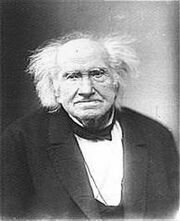 Michel-Eugene Chevreul
(Aug 31, 1786-Apr 9, 1889) of France was a chemist and pioneer in the field of gerontology. He was noted, in particular, for his study of fatty acids and his disdain for "charlatanism". In 1886, Chevreul was one of the first "famous people" to celebrate their 100th birthday (Sir Moses Montefiore turned 100 in 1884).
Ad blocker interference detected!
Wikia is a free-to-use site that makes money from advertising. We have a modified experience for viewers using ad blockers

Wikia is not accessible if you've made further modifications. Remove the custom ad blocker rule(s) and the page will load as expected.