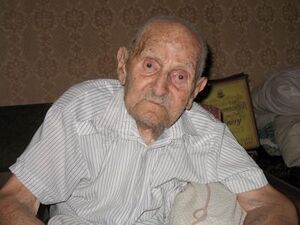 Mikhail Efimovich Krichevsky (Ukrainian: Михайло Юхимович Кричевський; 25 February 1897 – 26 December 2008) was a Ukrainian supercentenarian who is currently unverified.. At the time of his death, he was the last surviving World War I veteran of the Imperial Russian Army.[1][2] Krichevsky was mobilized into the army in 1917 and was sent to the Southwestern Front, becoming an engineer. After the October Revolution he returned home, where he settled and lived in Donetsk.
References
Ad blocker interference detected!
Wikia is a free-to-use site that makes money from advertising. We have a modified experience for viewers using ad blockers

Wikia is not accessible if you've made further modifications. Remove the custom ad blocker rule(s) and the page will load as expected.