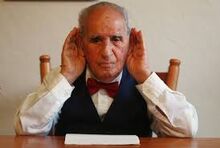 Mohammed Mohyeddin
(born 1 October 1906?) is an Iranian-Canadian supercentenarian claimant. He may be the oldest living man in Canada. He is currently unverified.
Biography
Mohyeddin claims birth in Iran on 1 October 1906. He moved to Canada in between the 1970s and 1980s (citation needed). He was in the army. He met his wife Ashraf Hasheminejad (16 March 1916 - 28 December 2016) in 25 July 1936. The couple had eight children. They celebrated their 80th anniversary in 2016. The secret to his long life is chewing your food.
Ad blocker interference detected!
Wikia is a free-to-use site that makes money from advertising. We have a modified experience for viewers using ad blockers

Wikia is not accessible if you've made further modifications. Remove the custom ad blocker rule(s) and the page will load as expected.