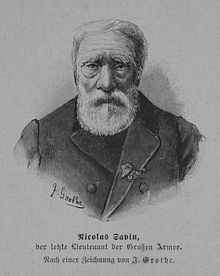 Jean-Baptiste Nicolas Savin (17 April 1768/13 July 1787? – 29 November 1894) was a French soldier and a claimed supercentenarian, although this cannot be verified. He claimed to be the last survivor of the French Revolutionary Wars of 1792-1802 and the last French officer of the Napoleonic Wars. After the defeat of Napoleon's Army, he settled in the Russian Empire.
A Russian document dating from 1839 suggests that by his own account Savin was born about 1787. This would contradict his earliest claims about his military service and would make his age at death about 107, instead of 126.
Ad blocker interference detected!
Wikia is a free-to-use site that makes money from advertising. We have a modified experience for viewers using ad blockers

Wikia is not accessible if you've made further modifications. Remove the custom ad blocker rule(s) and the page will load as expected.