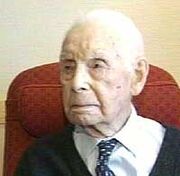 Olav Hovatn
(23 October 1892 – 26 April 2003) - was a Norwegian supercentenarian who at the age of 110 was Norway's oldest living man. He lived in Froland in Aust-Agder, where he married in 1917.
He became a widower in 1973 when his 79-year-old wife, Ingeborg, passed away. Since then, aged 81 until he was 108, he stayed home alone at the farm in Froland. Then he thought it was time to move on retirement. He left a number of descendants, including a daughter of 85 years. Hovatn was the father of nine children, grandfather of 17 and great-grandfather to 32.
Olav Hovatn is the second oldest Norwegian male ever after Herman Smith-Johannsen.[1][2]
References
Ad blocker interference detected!
Wikia is a free-to-use site that makes money from advertising. We have a modified experience for viewers using ad blockers

Wikia is not accessible if you've made further modifications. Remove the custom ad blocker rule(s) and the page will load as expected.