Olga Yvonne Agar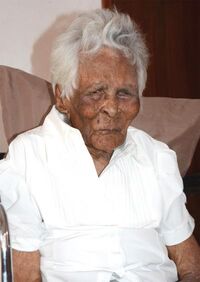 Unvalidated
Olga Yvonne Agar (born 28 June 1903?) is a supercentenarian claim from Mauritius.
Biography
Olga claims to have been born on 28 June 1903. At the age of 24, she married Alois Agar. She had ten children (four girls, six boys). She never missed mass and insisted that her children should say their prayers before going to sleep. After the death of her husband, she had a lot of grief but accepted the fact that "God needs the people he loves".
On her claimed 113th birthday, she had 23 grandchildren and several great-grandchildren.
References