Pearl Lutzko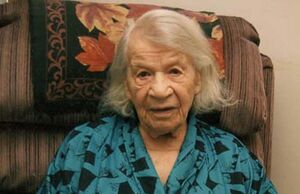 Unvalidated
Pearl Lutzko (née Ewanik) (15 February 1899 - 2 November 2011) was a Ukrainian-Canadian supercentenarian whose age is currently unvalidated by the GRG. If her age is correct, she's the second oldest Ukrainian-born person ever, behind Goldie Michelson.
Biography
Pearl Lutzko was born in Chortkiv, Russian Empire (now Ukraine) on 15 February 1899. After the death of her parents' remarriage, she and her family moved to Canada. She married John Lutzko on June 12, 1915 with whom she would have seven children. They would farm land in Goodeve, Saskatchewan until 1959, when they moved to Ituna. She was an avid gardener growing a garden every year until the age of 103 years.
Eventually, Mrs. Lutzko passed away on 2 November 2011 at the age of 112 years, 260 days. She had 29 grandchildren, 55 great-grandchildren and 25 great-great grandchildren.
References