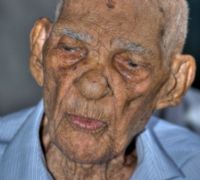 Philibert Parnasse (6 May 1901 – 24 October 2010) was a French-Guadeloupean centenarian, who was the oldest living man in France and Guadeloupe at the time of his death in 2010.[1]
Parnasse was born in the rural community of Baillif in southern Guadeloupe on 6 May 1901. He resided with his wife in a small family home in Guadeloupe throughout his life. He suffered from paralysis soon after the death of his wife in 2001. He became the oldest man in France (Guadeloupe is politically part of the country) on 31 December 2009, following the death of Félix Maximilien Rostaing.
Parnasse died on 24 October 2010, in Guadeloupe at the age of 109. The President of the Regional Council of Guadeloupe Victorin Lurel said of Parnasse, "I am really moved and sad. Right up until his last breath Philibert Parnasse had a lively spirit, and an outstandingly accurate memory. He was a real force of nature.
References
Ad blocker interference detected!
Wikia is a free-to-use site that makes money from advertising. We have a modified experience for viewers using ad blockers

Wikia is not accessible if you've made further modifications. Remove the custom ad blocker rule(s) and the page will load as expected.