Regina Rotthauwe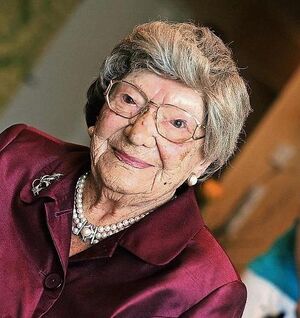 Regina Rotthauwe at age 107
Unvalidated
Regina Rotthauwe (31 January 1905 - 6 February 2015) was a German supercentenarian who was, at the time of her passing at age 110 years and 6 days the oldest living inhabitant of Saarland ever.
Biography
Rotthauwe was born on 31 January 1905 in Saarland. Until now, the exact place of birth is unknown. She claimed to have been born on 29 January 1905: Her father was that exited he named the date when he visited the civil registry office for notification. Rotthauwe was raised in Alsace so she was able to speak French as well as German. She came to Ruhr area with her father who played the trombone in a German military band.
She worked as an innkeeper and owned different station restaurants with husband during their professional time. One reason was World War II when different stations were attacked and bombed their restaurants. Her husband died in 1968 without having children. Before moving into the nursing home in Haldern at age 87, she lived in Wesel.
At age 95 she had a femoral neck fracture so she needed a walking aid from that time. She celebrated her 100th birthday with her German and French relatives. At age 106 she went in another nursing home and moved from her apartment into a studio apartment. Rotthauwe was reported by media the last time in consequence of her 108th birthday being in an excellent shape. She traced her longevity to being strong-headed.
Rotthauwe died on 6 February 2015, 6 days after she became 110, being Saarland's oldest citizen ever.
References
Ad blocker interference detected!
Wikia is a free-to-use site that makes money from advertising. We have a modified experience for viewers using ad blockers

Wikia is not accessible if you've made further modifications. Remove the custom ad blocker rule(s) and the page will load as expected.