Rita Borchi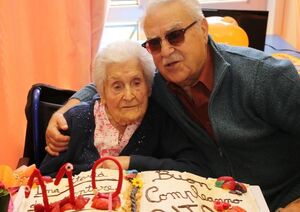 Rita with her son, Giuseppe, on her 110th birthday
Unvalidated
Rita Borchi (29 April 1906 - 6 December 2016) was an Italian supercentenarian who is currently unverified.
Biography
Rita was born in San Baronto (now Lamporecchio), Tuscany, Italy on 29 April 1906. At a young age, she moved to Faltognano, Tuscany. There she met her future husband, Eli Verdiani, and moved back to her birth town. In 1934, their only son was born, Giuseppe. Her son was still alive at her 110th birthday in 2016. Rita also lived in England for some time. Her husband passed away at 42.
She died in Lamporecchio on 6 December 2016 at the age of 110 years, 221 days.
References