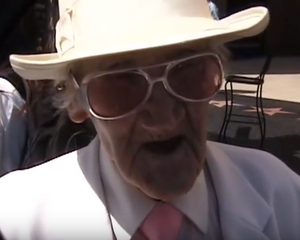 Ronnie Fairbanks (20 May 1897? – 2 December 2009) was an American supercentenarian claimant who claimed he reached the alleged age of 112 years, 196 days. If his claim were true, it would have made him the world's third-oldest living man, only behind Jiroemon Kimura and Walter Breuning, and the second oldest man in the United States after Walter Breuning.
He was quite fit and was able to walk around, his vision and hearing were perfect and he lived in his own house alone. He was born on a cattle ranch near Butte, MT. However, there are no records for a man with his name living there, making his case not possible to be validated. He had no dementia and could name many US Presidents.
References
Ad blocker interference detected!
Wikia is a free-to-use site that makes money from advertising. We have a modified experience for viewers using ad blockers

Wikia is not accessible if you've made further modifications. Remove the custom ad blocker rule(s) and the page will load as expected.