Rose Haddad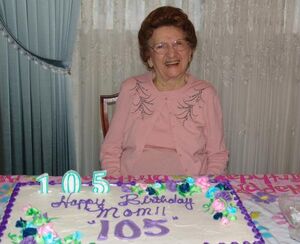 Rose Haddad on her 105th birthday.
Pending
Rose Haddad (née Homsy) (15 April 1901 - 29 April 2011) was a Syrian-American pending supercentenarian. At the time of her death, she was the oldest living Arab-American person.
Biography
Rose Haddad was born Ramza Homsy on 15 April 1901 in Damascus, the capital of Syria. When she was a child, she and her family moved to the United States, where she married John Haddad, who knew her family and its four sisters. She lived on East Central Street in Natick, Massachusetts, where she was known for her Arabic dishes and pastries. She taught her grandson Richard Nawfel Arabic and had conversations in half-English and half-Arabic. In 1965, five years after her husband died, she obtained a driver's license and bought a car. She began working at Leonard Morse Hospital, prepping instruments for surgeons. She was presented in 2000 by Senator Edward M. Kennedy with a centenarian award at the John F. Kennedy Library. Her grandson said that she didn't had any secrets for her longevity, aside from enjoying life, smiling and drinking eight glasses of water a day.
Mrs. Haddad passed away on 29 April 2011 at the age of 110 years, 14 days.
References
Ad blocker interference detected!
Wikia is a free-to-use site that makes money from advertising. We have a modified experience for viewers using ad blockers

Wikia is not accessible if you've made further modifications. Remove the custom ad blocker rule(s) and the page will load as expected.