Rosina Lazzarini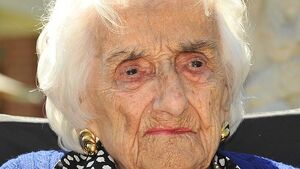 Unvalidated
Rosina Lazzarini (11 March 1906 – 4 December 2016) was a British-born Australian supercentenarian who is currently unverified.
Biography
Rosina was born in London to Italian parents. She did her schooling in Italy before moving to Sydney, Australia where she worked as a typist at Gowings in the city. She later married, and had two sons.
She died in Scalabrini Village, New South Wales, Australia at the age of 110 years, 268 days.
References
Ad blocker interference detected!
Wikia is a free-to-use site that makes money from advertising. We have a modified experience for viewers using ad blockers

Wikia is not accessible if you've made further modifications. Remove the custom ad blocker rule(s) and the page will load as expected.