Ruth Berry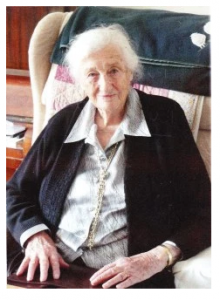 Ruth Berry at her 107th birthday.
Centenarian
Ruth Isobel Berry (neé Simon) (born 19 November 1909) is a Guernsey centenarian who is currently the oldest known living person in Guernsey.[1] [2] [3] [4]
Biography
Ruth Isobel Berry was born as Ruth Isobel Simon on 19 November 1909. She was among the many thousands of people evacuated from Guernsey during the Occupation. She travelled to England with her three young children.
Having spent years in St Helen's in Lancashire and then on the south coast of England, during what her son has described as a 'terrible time', she returned to Guernsey and was heavily involved in her local church when her children and grandchildren were growing up.
She is said to be in good health, having recovered from a recent fall and her son, former States member Roger Berry, says he doesn't expect this to be her last birthday. Her son says there are no secrets to his mother's long life. One of sisters also lived to be more than 100.
References
Ad blocker interference detected!
Wikia is a free-to-use site that makes money from advertising. We have a modified experience for viewers using ad blockers

Wikia is not accessible if you've made further modifications. Remove the custom ad blocker rule(s) and the page will load as expected.