Sahae Kawabata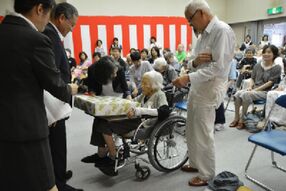 Unvalidated
Sahae Kawabata [Japanese: 河端サハヱ] (3 September 1905 - 30 April 2017) was a Japanese supercentenarian who is currently unverified.
She lived in Shikokuchuo, Ehime Prefecture.
References
(Non-standard reference below indicating death)
https://twitter.com/beanbag_silver/status/858997832543371264
Ad blocker interference detected!
Wikia is a free-to-use site that makes money from advertising. We have a modified experience for viewers using ad blockers

Wikia is not accessible if you've made further modifications. Remove the custom ad blocker rule(s) and the page will load as expected.