Sam Baker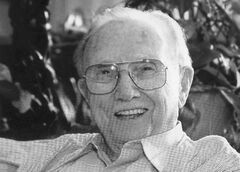 Samuel "Sam" Baker
Centenarian
Sam Baker (19 December 1903 – 5 August 2013) was the oldest person in history known to have been born aboard a ship. He lived to 109. He was born aboard a ship which sailed from Poland to Canada on 19 December 1903. He started using a walker since he was 108 and had hearing problems. He married Joan in 1940, and had three children (a son named Steven and two daughters). His son credits his longevity to him walking a lot. He used to walk one mile per day until he developed back problems in his 90s. He died on 5 August 2013, and his successor for the title of the oldest living Canadian man was an unidentified 109 year old from Saskatchewan [citation needed]. At the time of his death, he was also the oldest Jewish person in Winnipeg.
References
Ad blocker interference detected!
Wikia is a free-to-use site that makes money from advertising. We have a modified experience for viewers using ad blockers

Wikia is not accessible if you've made further modifications. Remove the custom ad blocker rule(s) and the page will load as expected.