Shigeyo Nakachi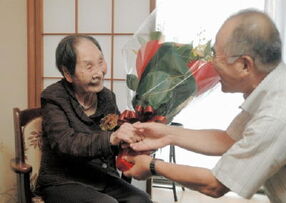 Shigeyo at 106
Validated
Shigeyo Nakachi [Japanese: 中地シゲヨ] (born 1 February 1905) is a Japanese supercentenarian who has been validated by the Gerontology Research Group.
Biography
Shigeyo was born on 1 February 1905. She worked in elementary schools and kindergartens until the age of 62.
Shigeyo is the oldest living person in Saga Prefecture. She lives in Saga City.
Refrences