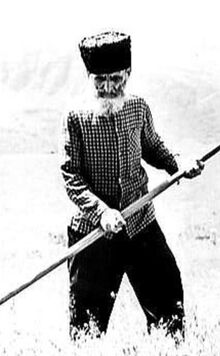 Shirali Baba Muslimov (also Mislimov) (allegedly born 26 March 1805 – 2 or 4 September 1973) was a Taylash shepherd from the village of Barzavuin the Lerik, Azerbaijan. He claimed to be 168 years old: if his claim were correct then he will be about 46 years older then the oldest verified record of 122 years by Frenchwoman Jeanne Calment. However, that's extremely unlikely, based on maximum lifespan and mortality data for validated supercentenarians.
According to myth, Muslimov worked hard every day up until he was 165 years old, did not smoke or drink, but ate fruits, vegetables, wholemeal bread, chicken broth, low-fat cheese and yogurt. He married several women throughout his lifetime. Muslimov became ill with pneumonia between 1972 and 1973, but he survived, only to die later in 1973.
According to him, the angel of death couldn't reach him in the mountainous area.