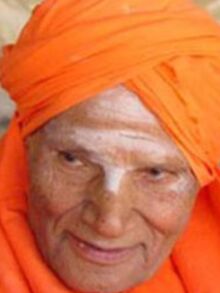 Sri Sri Sri Shivakumara Swamiji (born 1 April 1907?) is an Indian humanitarian and supercentenarian claimant who is the head of Sree Siddanga Mutt and the founder of Sri Siddanga Education Society. He was initiated into vitakrasham in 1930. Swami was born in Verrapura. He studied English in College and is a proficient in Kannada. He continues to do humanitarian work at the claimed age of 110.
Centenarian years
On his first centenarian year in 2007, the government awarded Swami the prestigious award, the highest civilian award of the state. In 2015, the government awarded him with the Padma Bhushan.
He celebrated his claimed 110th birthday on 1 April 2017.
References
Ad blocker interference detected!
Wikia is a free-to-use site that makes money from advertising. We have a modified experience for viewers using ad blockers

Wikia is not accessible if you've made further modifications. Remove the custom ad blocker rule(s) and the page will load as expected.