Sietje Cornelia Hof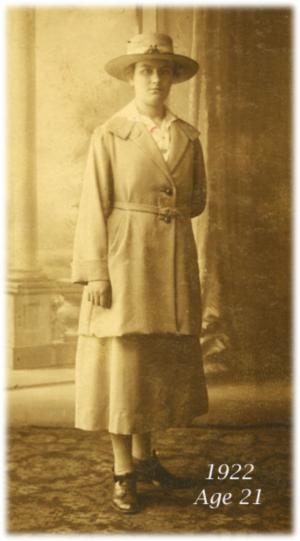 Sietje Cornelia Hof in 1922, aged 21
Pending
Sietje Cornelia Hof-van der Stad (7 January 1901 - 23 December 2011) was a Dutch-American supercentenarian who is currently pending. She's the oldest Dutch emigrant ever.
Biography
Sietje Cornelia Hof was born as Sietje Cornelia 'Kaatje' van der Stad in the town of Milessant on the island of Goeree-Overflakkee in South-Holland, Netherlands on 7 January 1901. She grew up on the farm and spent much time working in the fields. On 18 May 1926, she married Hendrik Hof at Stadhuis, Dirksland; they met through mutual friends. She moved to the United States in 1948 emigrating through New York City and originally settling in Oak Ridge, New Jersey. She has lived in Prospect Park, Waldwick, Glenwood, Vernon, Towaco and Pompton Lakes before moving to Hamburg to live with her sister. She was known for her crocheting skills having made beautiful hankies for just about everyone in the family. She would make special ones for those being married and could carry on a conversation and not even look at her work as she crocheted. She loved to travel and has been to Michigan, Canada at 101, and many return trips to The Netherlands.
Sietje Cornelia Hof died in Hamburg, New Jersey, United States on 23 December 2011 at the age of 110 years, 350 days, two weeks before her 111th birthday.
References