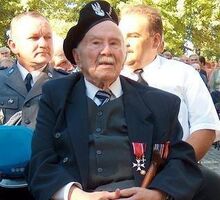 Stanislaw Wycech [Polish: Stanisław Wycech] (27 June 1902 – 12 January 2008) was, at age 105, the last Polish veteran of the First World War. At the time of his death, he was, at age 105, the youngest living veteran of the war. Wycech was underage when he enlisted in the Polish Military Organisation in 1917 aged only 15 and participated in the disarming of German troops on November 10, 1918. He did not participate in the Greater Poland Uprisingdue to contracting typhoid, but was also a veteran of the Polish-Soviet War. He resided in Warsaw until his death at age 105.
Ad blocker interference detected!
Wikia is a free-to-use site that makes money from advertising. We have a modified experience for viewers using ad blockers

Wikia is not accessible if you've made further modifications. Remove the custom ad blocker rule(s) and the page will load as expected.