Tanzilya Bisembeyeva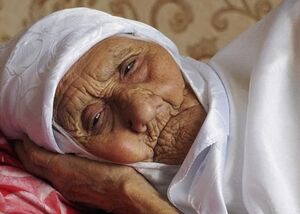 Longevity claimant
Tanzilya Nasihanovna Bisembeyeva [Russian: Танзиля Насихановна Бисембеева] (born 14 March 1896?) is a Russian longevity claimant. She claims to be world's oldest living person.
Biography
Tanzilya Nasihanovna claims to have been born in small village named Islamgazy, Astrakhan region, Russia on 14 March 1896 in large family. She was eldest of eight children. She married her first husband before World War II. Her first child died as an infant. Her first husband died in the war. With her second husband she had three sons. She had her first son at the age of 53. All of her three sons are pensioners and live close to their mother. When asked what her secret is, they say: "She's very kind and is always very positive about life. She sees only the best in people."
She is said to live on a small pension with her son revealing that people who could prove her work record on paper 'have all died'. She lives in Alycha village, Krasnoyarsky District, Astrakhan Oblast, Russia.
References