Teofila Robles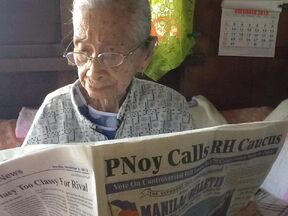 Unvalidated
Teofila Robles Aguila (known as "Nanay Pilang"; 28 December 1903?- 5 November 2016?) was a Filipino supercentenarian claimant.
Biography
Teofila claims to have been born on 28 December 1903 in Cebu, Philippines.
Teofila says that the secret of her long life is eating nutritious food and having a prayerful heart. She lived in San Antonio, Quezon Province
She died on 5 November 2016 at the age of 112 years, 313 days
References
Ad blocker interference detected!
Wikia is a free-to-use site that makes money from advertising. We have a modified experience for viewers using ad blockers

Wikia is not accessible if you've made further modifications. Remove the custom ad blocker rule(s) and the page will load as expected.