Teru Tanaka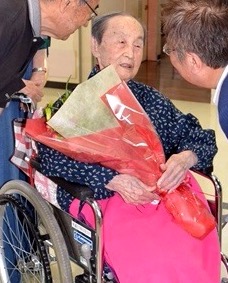 Teru Tanaka at the age of 110.
Unvalidated
Teru Tanaka (6 June 1907 – 16 December 2017) was a Japanese supercentenarian whose age is currently unvalidated by the Gerontology Research Group (GRG). She was the oldest known living person in Shizuoka prefecture, Japan, until her death on 16 December 2017.
Biography
Teru Tanaka was born on 6 June 1907 in Japan. On 27 July 2017, at the age of 110, she became the oldest known person in Shizuoka prefecture after the death of Fumi Eto, who was also 110 years old.
Teru Tanaka passed away on 16 December 2017 in Numazu, Shizuoka prefecture, Japan, at the age of 110 years, 193 days. Her successor as the oldest person in Shizuoka Prefecture was 110-year-old Hatsue Tachikawa (born 10 December 1907).
References
This is a stub starter, designed to be the starting point for further expansion on this article.