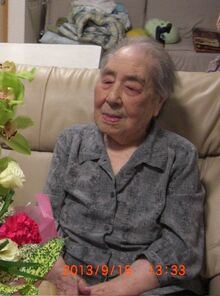 Tetsu Ishii (15 September 1904 - 4 March 2017) was a verified Japanese supercentenarian. She was the oldest ever person in Aomori prefecture. She was a resident of Takko town.
At her 110th birthday, she was recuperating in the hospital since she hurt her leg. Her eldest son, Yoshikazu, said that her secret to longevity is her generous personality.
References
Ad blocker interference detected!
Wikia is a free-to-use site that makes money from advertising. We have a modified experience for viewers using ad blockers

Wikia is not accessible if you've made further modifications. Remove the custom ad blocker rule(s) and the page will load as expected.