Therese Fenners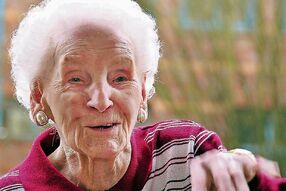 Unvalidated
Therese Fenners
(8 March 1906 – 23 June 2018) was a German
supercentenarian
who is currently unverified.
Biography
Therese Fenners was born in Viersen, North Rhine-Westphalia, Germany on 8 March 1906. She grew up in Bockert with nine siblings. She worked in a book shop for many years. She met her future husband in the dance hall Genenger. They were married for more than 60 years. Her husband Heinrich passed away in 1991. Eight years later, she moved to the nursing home.
Therese Fenners became the oldest living woman in Germany following the passing of 112-year old Edelgard Huber von Gersdorff . She continued to live in Viersen until her death on 23 June 2018 at the age of 112.
References