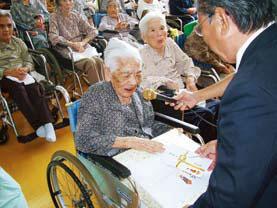 Toshi Horiya (8 November 1897 - May 2011) was a validated Japanese supercentenarian and, at the time of her death, the oldest living woman in Kagoshima prefecture.
Horiya passed away sometime in May 2011, aged 113 years, 173-204 days, and was succeeded as Kagoshima's oldest person by Nabi Tajima. At the time of her death, she was Japan's second-oldest woman, behind Chiyono Hasegawa, and the third-oldest person, behind Hasegawa and Jiroemon Kimura.
Ad blocker interference detected!
Wikia is a free-to-use site that makes money from advertising. We have a modified experience for viewers using ad blockers

Wikia is not accessible if you've made further modifications. Remove the custom ad blocker rule(s) and the page will load as expected.