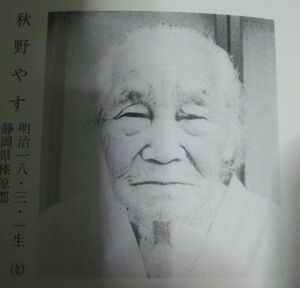 Yasu Akino (秋野やす Akino Yasu?) (1 March 1885 - 12 February 1999) was a Japanese supercentenarian and the oldest living person in Japan since the death of Tase Matsunaga on 18 November 1998 to her own death on 12 February 1999. She died at the age of 113 years, 348 days.
At the time of her death, Akino was the third-oldest verified living person, behind Sarah Knauss and Annie Jennings.
Ad blocker interference detected!
Wikia is a free-to-use site that makes money from advertising. We have a modified experience for viewers using ad blockers

Wikia is not accessible if you've made further modifications. Remove the custom ad blocker rule(s) and the page will load as expected.