Zoraida Ormaeche Rojas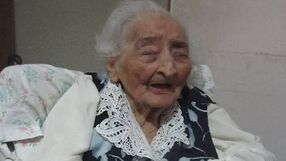 Unvalidated
Zoraida Ormaeche Rojas (23 February 1901 – 2 November 2011?) was a Peruvian supercentenarian who is currently unverified.
Biography
Maria Zoraida was born on 23 February 1901 in Callao, Peru to Domingo Ormaeche and Ynocenta Rojas. She was baptized on 2 March 1901. She had a twin brother, Pedro Carlos Ormaeche. She never had any serious illness, only a slight hearing problem. Zoraida dedicated her life to caring for her children. She married Benjamin Carlos Nugent on 11 December 1919 in Lima.
On her 110th birthday, she was visited by her 7 children, 22 grandchildren, 25 great-grandchildren and 6 great-grandchildren.
References
Ad blocker interference detected!
Wikia is a free-to-use site that makes money from advertising. We have a modified experience for viewers using ad blockers

Wikia is not accessible if you've made further modifications. Remove the custom ad blocker rule(s) and the page will load as expected.